WELCOME TO
ROTTERDAM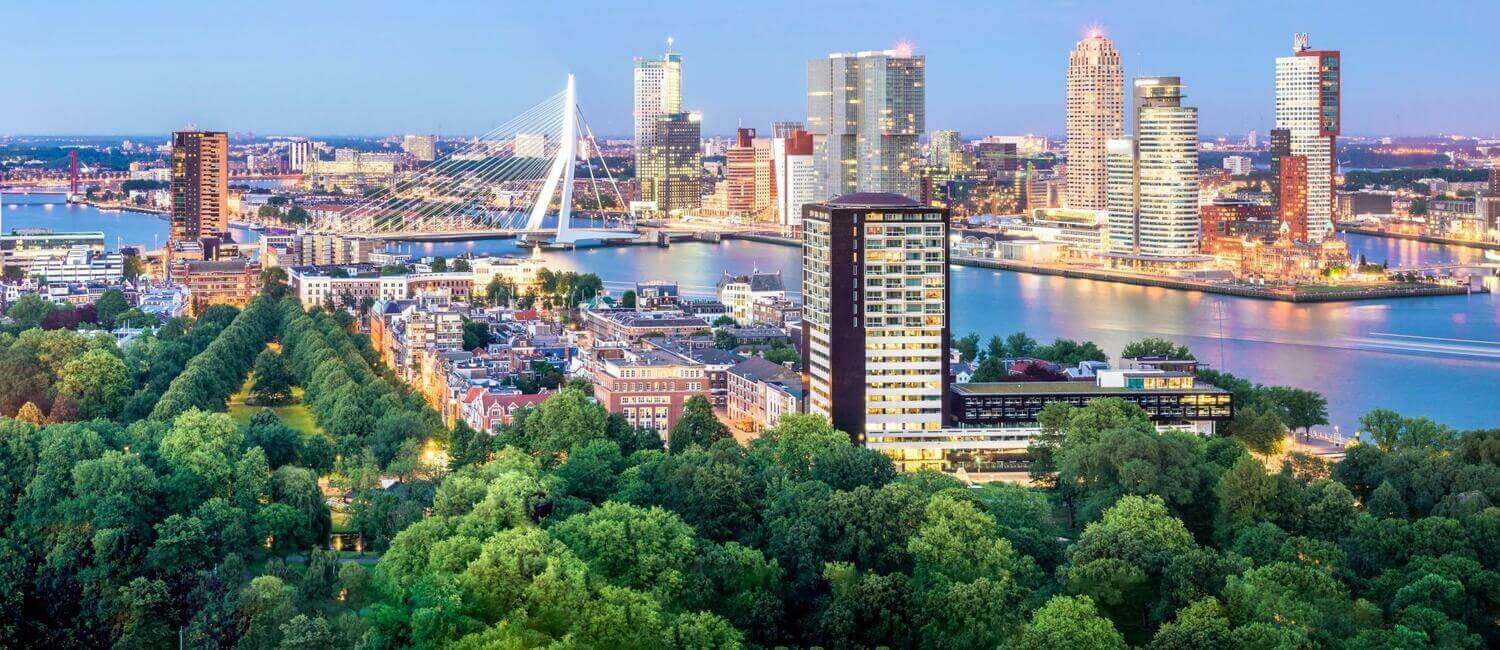 Tour de France Cycle City
Holland's most modern city began as a fishing village in the 13th century. It was developing into an industrial and trading power when German bombers destroyed the city center and harbor in 1940. However, Rotterdam's unique architecture now brings many visitors to bike around this urbane, cosmopolitan city. Old Dutch-style houses can still be found in historic Delfshaven, from where the pilgrims set sail in 1620. Rotterdam is a city of many faces: a tough port city, a trendy nightlife city, a sophisticated shopping city, and a hip artistic city. Above all, Rotterdam is the architecture city of Holland that stimulates innovation. Its skyline is always changing. There are many things to do amid Rotterdam's skyscrapers. You can go on a shopping spree, enjoy some excellent food, and visit a range of museums and attractions in and around the city centre. Cultural offerings from summer's carnival to classical music give Amsterdam competition.
Do Rotterdam like a local
For local delicacies, visit the Rotterdamse Oogstmarkt, a delicious and sustainable farmers' market on Noordplein. Look for yourself in the 1664 mirrors of Depot Boijmans Van Beuningen, the very first public art depot in the world. Take a watertaxi to Marconistraat: the port industry can still be felt here, alongside the new Makers District M4H, which houses a lot of creatives (Studio Roosegaarde, Atelier Van Lieshout). Rent a bike to explore the area, take a look at the Floating Farm where futuristic farming takes place. Then visit the nearby Weelde, a creative free state where you can stop for a drink and a snack. The most beautiful park is Het Park at the Euromast, where lush greenery and iconic architecture meet right next to the city centre. When visiting Het Park, don't forget to stop by the hidden historic gardens of Schoonoord. More local tips?
In Rotterdam we speak
DUTCH
We have more than
170 NATIONALITIES
In 2010 we hosted the
TOUR DE FRANCE GRAND DEPART
A GLIMPSE

OF ROTTERDAM

Rotterdam itself has much to offer but is also the perfect base from which to visit cities, nature, beaches and the attractions in the area. Get on your bike and/or take public transportation and you'll find yourself there in no time: from the bustling Rotterdam Maasvlakte and the vast dunes of Hoek van Holland to the royal city and seat of the government, The Hague and the traditional Dutch windmills at Kinderdijk. On this page, you will discover what there is to do nearby Rotterdam.
PREPARE YOUR TRIP WHAT YOU SHOULD KNOW

Postillion Hotel WTC Rotterdam
The Coolsingel at your feet? Ever wanted to wake up with the Coolsingel at your feet? Then book a room at Postillion Hotel Rotterdam. Located next to the existing Congress Centre, the 168-room hotel opened on 2 April, 2021. Ideal when attending a congress, event or multi-day meeting, but also great for a weekend break. Rotterdam may be known as a working city, but it is also a great place to relax. The hotel is conveniently located in the city centre. Parking is available at WTC Beursplein and reservations can be made via the Interparking website.

Discount code and booking: participants in the Rotterdam Cycling Festival / L'Étape Rotterdam by Tour de France receive a 15% discount on the published room rate, with or without breakfast.
To book directly, click here and enter the discount code: Rotterdamcycling@ph.

Additional charges: Citytax 6.5%

Address: Meent 110, 3011 AA Rotterdam
Telephone: +31 (0)10 405 4462
IN ROTTERDAM
More information for travelling to Rotterdam HERE.
Our partners Make it happen